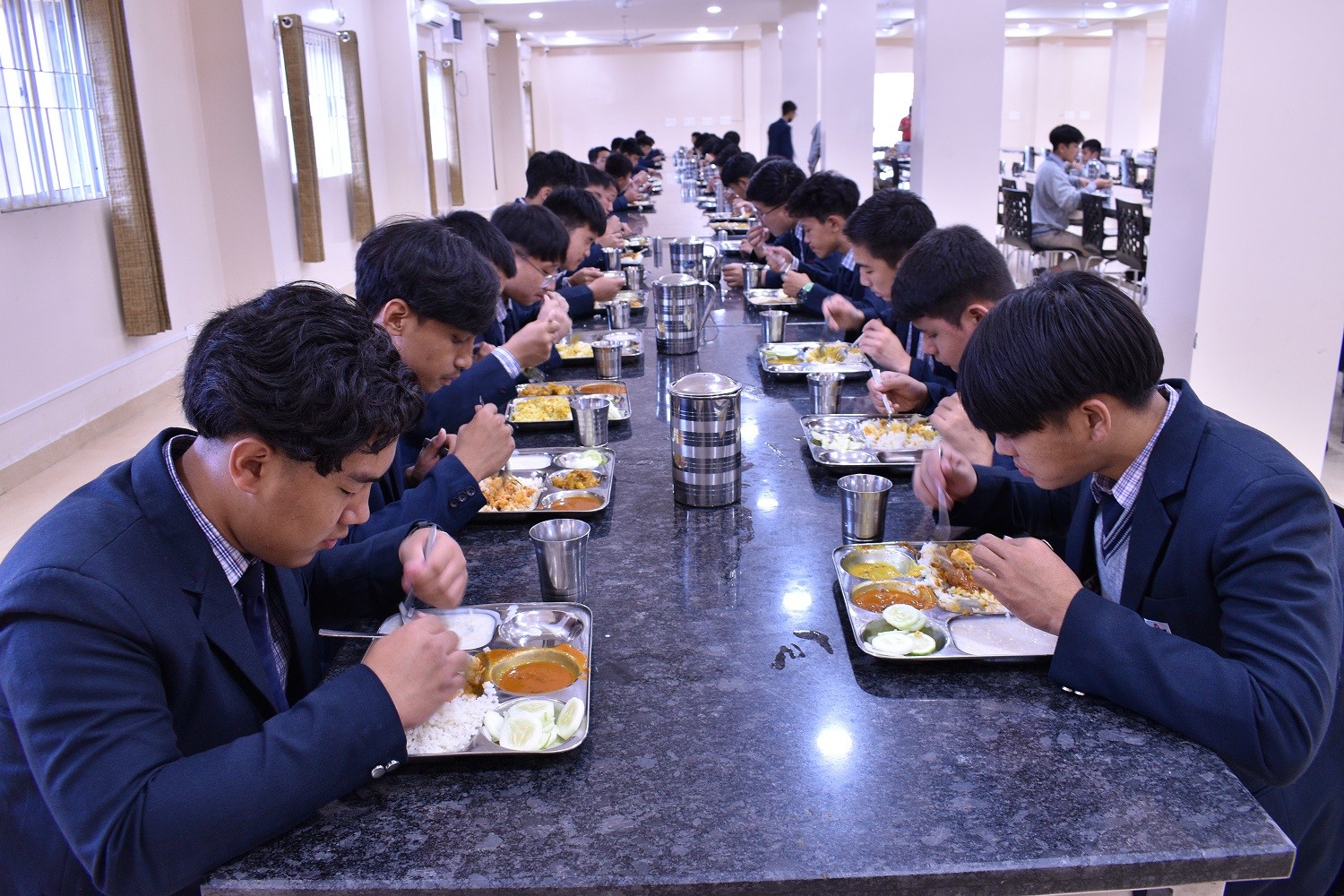 HIMIS Boarding House is a home away from home for our children. They are attended at all times by resident Housemasters and Housemistresses. A team of teachers always moves along with the children within the campus until they retire for rest which means there is always someone for them, like our homes.
The HIMIS Hostel is never an alternative for a family but an extended family, a comfortable resort for those who need their learning environment a choice. It envisions to provide the best family atmosphere through inculcating close-knit community values based on mutual respect and compassion.
I have decided to keep my child at HIMIS
boarding because it gives me a sense of
proximity and feeling of family. It was
not surprising for me to find HIMIS Hostel
to be a real home away from home for my son.                                                               
                                                                   -Parent
Smart Classrooms
Our classrooms are spacious and well-ventilated with ample natural and artificial lighting. Ergonomically designed furniture, a combination of white boards, display boards, teaching aid displays and LCD projection equipment, facilitate the learning process.
To facilitate learning across the campus, a Wi-Fi system is installed and a dedicated Internet leased line with optical fibre network across the campus facilitates the use of laptops and other equipment.
Laboratories
Laboratories have been set up for students to get real-time experience in the science and social science lessons.
Computer Laboratories: HIM has a fully equipped air- conditioned computer lab. Large number of computers for students are interconnected through our Local Area Network to conduct classes. Both theoretical classes and practical classes are held.
Language Laboratory : It caters to Foreign and Indian Languages, with audio-visual equipment for pronunciation, listening skills, presentation skills and interactive language learning activity.
Library cum Resource Centre
HIM has a well-equipped Library, with an extensive range of reference books, newspapers, magazines, periodicals, educational CDs, computer workstations, printer and photocopier.A computer aided referencing system enables students to rapidly locate books of their choice. As part of the focus on e-learning, students are encouraged to use the Internet and to access online international libraries for information.
Activity Centre
This one of its kind Activity Centre has facilities for diverse visual and performing arts. The performing arts wing is fully air conditioned and has excellent sound proof studios for different activities. The creative art wing housed numerous well lit art studios for painting, crafting, sculpturing etc.
Boarding at Him International School provides your ward with a realistic view of the world, giving him/ her unparalleled opportunities for sporting, cultural and leisure activities. The setting provides for intellectual, social, emotional and moral growth, so that when students leave us they will have the skills and confidence to be a caring, competent and confident young citizen, able to enjoy and contribute fully to the world around them. Boarders at Him International School make a difference. At the end of the school day when classes are over, boarders and boarding staff keep the campus alive. Within its secure, caring and happy environment your ward will be valued for his/her individual contribution and will be encouraged to be involved in every available activity within and outside the School. Boarders become part of a close and happy community, developing lifelong friendships. Our Boarding House staff actively encourages personal development where self-realization, challenges and self-esteem are nurtured to create growth and confidence.